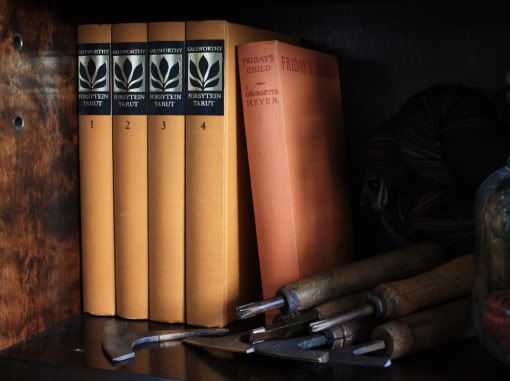 I like to go to fleamarkets and every now and then I make nice book finds. I have been wanting to purchase
The Forsyte Saga
in some form or other, so naturally I just stumbled upon it earlier this week. This set of four books in pristine condition cost me a couple of euros, it's a Finnish translation but that doesn't bother me. Finds like these make perfect practice pieces for leather bindings, but because the books are so neat and surprisingly nice looking I might even leave them the way they are now. All right, let's admit it - I did immediately have this brilliant vision of turning them into a set of four quarter bindings which, when shelved together, would form a gigantic hand tooled head of Soames or something. I struggle to prevent myself from doing it.
I also found a copy of
Friday's Child
by
Georgette Heyer
. I find myself fascinated by all the sartorialism and tea drinking this book seems to advocate. However, in a couple of months or so it will probably turn in to several little book necklaces, or dismantle itself for random collage pieces that will travel to all the corners of the world. So.. so, that's all!