I have spent an interesting summer week with
Gianfranco Mombelli
, who came from Switzerland to teach us hand tooling and gilding. I have never really done gilding with gold leaf so I learnt lots - even if I wasn't always around. My dear white enamel stove from the 60's ended his earthly life in the middle of the week with a loud crack and some smoke and soot, so I had to take one day off looking for a new one. To be honest I learnt so much on Monday that I just spent the rest of the week digesting all the information and pondering about different ideas and approaches. I did find a new stove too.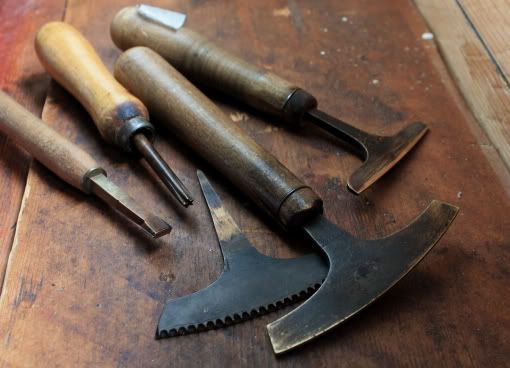 During the week I also bought a couple of pallets and punches which are pictured above. I don't own a great many tools so I'm always happy when I have the chance to buy some. Hand tooling with pallets and leaf gold was my favourite part of the week because it was easy enough for me to handle and I've always liked polishing my skills detail by detail. I have previously tooled with foil and found tooling with gold leaf much more delightful and rewarding. I created my first title with brass type and typeholder, tooled a bit of this and that, and practised some basic edge gilding with Franco.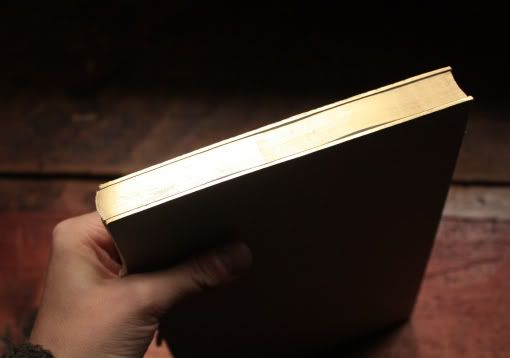 This is my very first gilt edge, which was done with paste, Aurofix and gold leaf. It was surprisingly difficult to take a decent picture.. then again, now no-one can see how crappy the edge really is. Some parts of the edge dried so fast that the gold flaked off, some parts were just fine, and some parts still showed marks from the scraper. Ha! Always do your best with the prepping. I'm happy with it anyway, because I finally understand the process and am ready to practice on my own. Always do your best with the prepping, and always make sure your scraper has been sharpened the right way.