·
Headbands, How to Work Them, by Jane Greenfield & Jenny Hille
This is a great little book that introduces the reader to 14 different headband designs, from simple styles like the French double headband to more exotic ones including Armenian and Islamic headbands. It offers a nice variety with illustrated step-by-step instructions. I have yet to teach myself all the interesting designs in this book. Published by Oak Knoll Press.
·
The Thames and Hudson Manual of Bookbinding, by Arthur W. Johnson
The ever-so-useful Thames and Hudson bookbinding manual offers a description and easy to understand instructions on how to sew a single and double core headbands with the bead on the front. This book is also highly recommended for anyone who wants to learn the basics of bookbinding and some of its history.
·
Modern Bookbinding, by Alex J. Vaughan
Has a couple of pages describing the process of sewing a single core headband with the bead on the front. There are some simple drawings included.
·
Fine Bookbinding - A Technical Guide by Jen Lindsay
For those interested in fine binding, this would be a great step-by-step reference book. It also features illustrated instructions on how to sew a classic double core headband. However, if you don't work with leather bindings this book will be of no use to you and I'd recommend you to buy a more versatile reference manual, just for the sake of saving money.
·
Bookbinding & Conservation by Hand: A Working Guide, by Laura S. Young
I haven't had the chance to read this book myself but according to Jane Greenfield and Jenny Hille, this book gives instructions for sewing single and double core headbands, German style headbands and headbands that are extensions of the sewing of the book block. This book is often recommended and seems to be a good overall manual of bookbinding.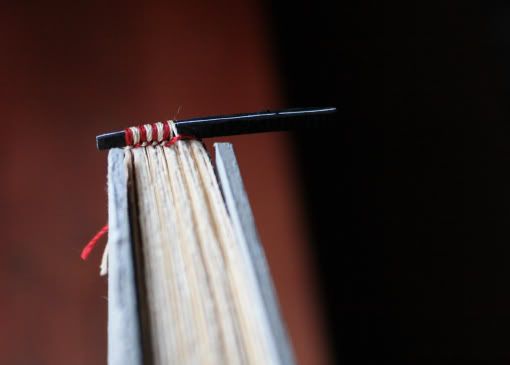 I know there are tons of manuals that have information and instructions for coptic headbands, braided headbands and other historical designs, so if you happen to know any just let me know! Will add them to the list.