Last month our group had the chance to spend a typesetting weekend at the local industrial museum. We made some business cards and bookbinder's labels while learning a bit about typography and printmaking. Their workshop had an impressive selection of printing blocks, matrices and machines and most of them were at our disposal. Very exciting! To me the best part of the whole weekend was to see the Intertype linecasting machine in action.
The first linecasting machine, called Linotype, was built in 1884 and was relatively soon followed by the Intertype in 1914. The Intertype machine features a pretty 90-key keyboard and a magazine from which the matrices (molds of the letter forms) are being distributed as the operator is typing something. The complete line ie. a typed set of matrices is sent from an assembler rail to the casting section where the machine casts the set of matrices into a single block ("type slug") by using an alloy of lead, tin, and antimony. While the line is being cast and moved about, the operator can already start typing the next line. After casting the matrices are automatically elevated back to the type magazine. Because the machine has approximately 10 000 moving parts the whole process makes a heavenly sound.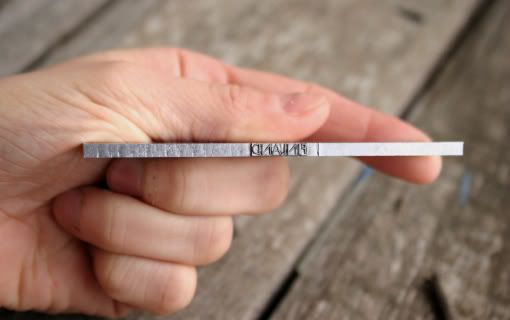 I used parts of the type slugs in my imaginative business card, along with a couple of single types and spacers for the name. When combing through the type drawers I also managed to find this insane printing block depicting a truck speeding out from a massive car tyre. The block was neatly wrapped in some ancient yellowed paper and the museum staff let me open the package with an X-Acto knife. This all made me unreasonably happy. Maybe I will start a tyre business in the future then.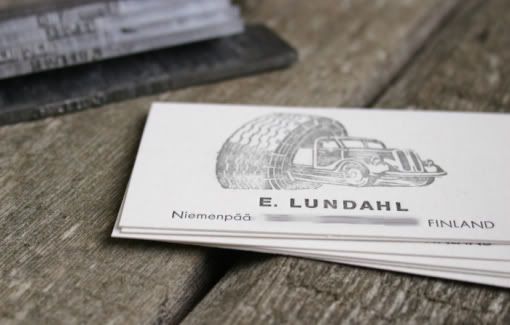 The random trivia of the day is also related to these machines: see
ETAOIN SHRDLU
.
See also
Linotype: The Film
!